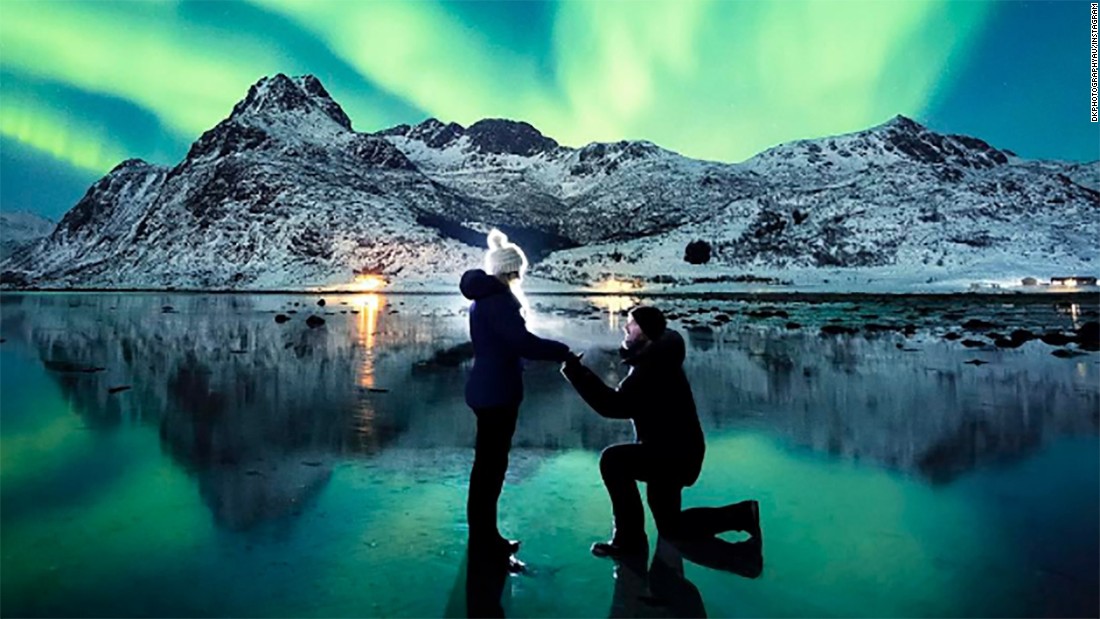 (CNN)A photo of an epic proposal under the Northern Lights went viral this week, proving once again that the shimmering natural phenomenon has the power to make any experience monumental.
They're unpredictable though, so anyone hoping to catch a glimpse needs to head to aurora hotspots to increase their chances of viewing them.
And keep their fingers crossed.
The regions where you have the most chance of seeing the Northern Lights are at a latitude of 66 to 69 degrees north — a sliver of the world that includes northern Alaska and Canada and bits of Greenland, northern Scandinavia and northern Russia.
"The vast majority of auroras occur in a band known as the Auroral Zone," says Alistair McLean, founder of a similarly named tour agency — the
Aurora Zone
— that specializes in Northern Lights trips.
"This band can expand when solar activity is high."
Before venturing into any of these freezing wildernesses, it's worth checking out the
kp index
, a measure of electromagnetic activity in the atmosphere. A reading of two or higher is considered good for Northern Lights spotting.
You can also head south, for the Aurora Australis (Southern Lights), lighting up from around March onwards.
Here are some of the places auroras show up.
Jokulsarlon, Iceland
Best spot: A cabin in the Lapland wilderness.
If you need convincing about Muonio's stunning northern light displays, check out the Instagram of
Antti Pietikainen
, an aurora photographer and guide from Muonio.
The village itself isn't much of a tourist destination.
However, its location in Fell Lapland, the western region of Lapland known for its moor-covered hills, makes Muonio a great stop for exploring the nearby fells including Olos, Levi and Pallas.
The
Pallas-Yllastunturi National Park
, a skiing and trekking destination, is only a 25-minute drive away and provides a spectacular backdrop for a Northern Lights show.
Southern hemisphere
Best spot: At the end of a continent.
Antarctica's the best place to view the aurora australis — the Southern Lights — but it's also the most inaccessible, unless you're a scientist or a supporting person (cook, doctor, pilot and so on) on a research expedition.
However, you can still see the lights from the southern tips of South America, Australia, New Zealand and South Africa.
New Zealand's
Stewart Island
("Rakiura" in Maori, meaning the land of glowing skies) is a good option. It has only 400 inhabitants and is covered with great wildlife and natural scenery.
This story was updated in March 2017
Read more: http://www.cnn.com/2013/11/20/travel/best-northern-lights/index.html